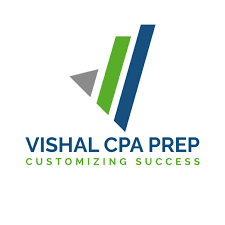 Preparing for the Certified Public Accountant (CPA) exam is a significant undertaking, and choosing the right CPA review course is essential to your success. With numerous options available in the market, finding the best one for your learning style and needs can be challenging. To simplify your decision-making process, we present Vishal CPA Review as your top choice for CPA exam success in 2023. This course is known for its effectiveness, comprehensive content, user-friendly platform, expert instructors, and a proven track record of student success.
Vishal CPA Review: Your Path to CPA Success
Comprehensive Content Coverage
Vishal CPA Review takes pride in its comprehensive content coverage. The course meticulously covers all four exam sections: Auditing and Attestation (AUD), Business Environment and Concepts (BEC), Financial Accounting and Reporting (FAR), and Regulation (REG). From in-depth video lectures to practice questions and simulations, Vishal CPA Review ensures you have the knowledge and skills needed to excel in each section.
Expert Instructors
One of the standout features of Vishal CPA Review is its team of expert instructors. These instructors bring extensive experience and expertise to the table. They provide clear explanations of complex topics, answer your questions promptly, and offer guidance throughout your preparation. With Vishal CPA Review, you're not just studying independently; you have a support system of knowledgeable professionals behind you.
User-Friendly Platform
Navigating your CPA review course should be a seamless experience, and Vishal CPA Review delivers precisely that. The platform boasts an intuitive design that allows you to easily access study materials, track your progress, and review previous lessons. You can focus on learning rather than struggling with a complicated interface.
Adaptive Learning Technology
Vishal CPA Review incorporates adaptive learning technology to enhance your study experience. This technology analyzes your performance and identifies your strengths and weaknesses. Based on this analysis, it tailors a personalized study plan to maximize your preparation efficiency. You'll spend more time on areas where you need improvement, ensuring a well-rounded understanding of the exam content.
Practice Questions and Simulations
Success on the CPA exam often hinges on practice, and Vishal CPA Review provides an abundance of practice questions and simulations. These materials mimic the exam's format and difficulty level, giving you a taste of what to expect on test day. Regular practice ensures you're comfortable with the types of questions you'll encounter in each section.
Study Tools and Resources
Vishal CPA Review offers a range of study tools and resources to support your learning journey. From flashcards and study planners to performance analytics and progress tracking, these resources help you stay organized and motivated. You can monitor your progress, identify areas for improvement, and adjust your study plan accordingly.
Competitive Pricing
Preparing for the CPA exam can be financially challenging, but Vishal CPA Review offers competitive pricing without compromising on quality. The course provides excellent value for your investment, making it accessible to a wide range of candidates. You can achieve your CPA goals without breaking the bank.
Proven Success
One of the most reliable indicators of a review course's quality is its track record of success. Vishal CPA Review boasts a history of helping countless candidates pass the CPA exam. These success stories are a testament to the effectiveness of the course and its commitment to guiding aspiring CPAs toward their goals.
Up-to-Date Content
The world of accounting is constantly evolving, and Vishal CPA Review recognizes the importance of staying up-to-date. The course content aligns with the latest changes in the CPA exam, ensuring that you are well-prepared for any updates or modifications to the exam's content and format.
Personalized Support
Beyond the comprehensive study materials and advanced technology, Vishal CPA Review offers personalized support. The course providers understand that every candidate is unique, and they are committed to addressing your specific needs and concerns. You can reach out for guidance, clarification, or motivation whenever you need it.
Choosing Vishal CPA Review
Selecting the best CPA review course for your needs requires careful consideration of your learning style, budget, and study preferences. Vishal CPA Review checks all the boxes, offering a comprehensive study program, expert instructors, a user-friendly platform, and adaptive learning technology—all essential elements for CPA exam success. With competitive pricing, a track record of achievement, and up-to-date content, Vishal CPA Review stands as the top choice for aspiring CPAs in 2023.
Your path to CPA success begins with the right review course, and Vishal CPA Review is ready to guide you every step of the way. Invest in your future, take advantage of the comprehensive resources offered by Vishal CPA Review, and embark on a fulfilling career as a Certified Public Accountant. With Vishal CPA Review, your success on the CPA exam is within reach. Good luck on your journey to becoming a CPA in 2023!