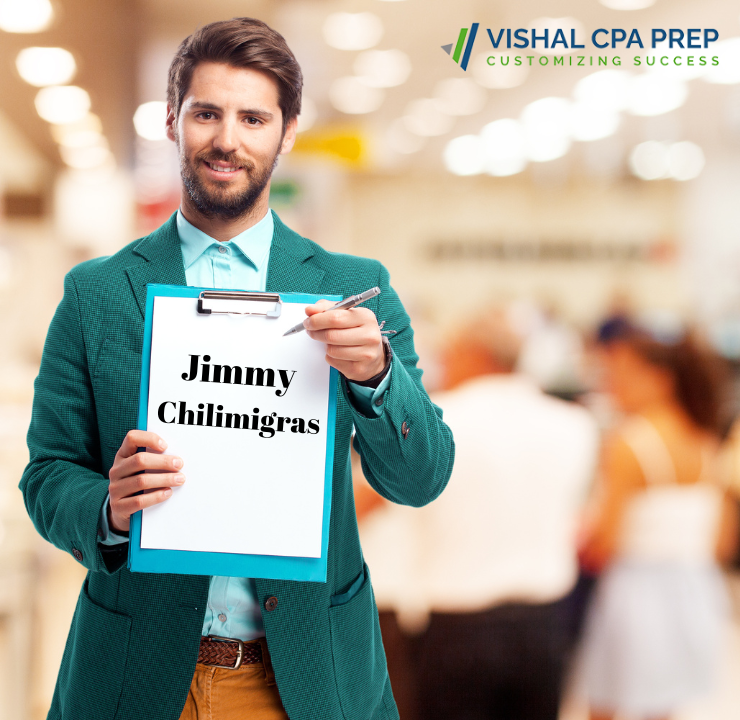 Born and raised near the serene shores of the Gulf of Mexico in Mississippi, Jimmy Chilimigras  developed a fondness for fishing from an early age. Although he humbly admits that he may not be the  most skilled angler, his true passion lies in the pursuit of knowledge. A prodigious learner, Jimmy  embarked on a remarkable academic journey, completing high school at the tender age of 12, earning a  bachelor's degree by 14, and acquiring a master's degree in just six months. As he prepares to  commence his legal studies at Loyola University New Orleans, Jimmy achieved yet another extraordinary  feat by passing the CPA Exam at the age of 15, becoming the youngest person to ever accomplish this  milestone. 
The Support of Mentors: Kesler CPA Review, Vishal CPA Prep, and Elisha  Schwab  
Jimmy's exceptional journey began when he connected with Bryan Kesler, a mentor from Kesler CPA  Review. Recognizing Jimmy's remarkable potential, Bryan gladly offered guidance and sponsorship  throughout the CPA exam process. Bryan's personalized mentorship approach allowed Jimmy to  effectively plan for the exam, recommended valuable study tools, and emphasized the importance of  developing essential soft skills. Grateful for Bryan's unwavering support, Jimmy acknowledges Kesler  CPA Review's program as a significant factor in his ability to navigate the demanding CPA exam. 
In addition to Kesler CPA Review, Jimmy sought the assistance of Vishal Gandhi from Vishal CPA Prep.  Vishal's comprehensive study guide and engaging live classes provided invaluable insights into the  Regulation (REG) and Financial Accounting and Reporting (FAR) sections of the exam. Jimmy commends  the concise nature of Vishal's study guide, which effectively incorporated essential questions  throughout. The combination of Kesler CPA Review's comprehensive materials and Vishal CPA Prep's  targeted guidance equipped Jimmy with a deep understanding of the exam content. Alongside his  mentors, Jimmy also received invaluable support from his tutor, Elisha Schwab, whose expertise in the  CPA exam subjects and personalized teaching approach played a crucial role in Jimmy's success. 
The Role of Study Guides for REG and FAR  
To conquer the challenging REG section, Jimmy relied on the study guide provided by Vishal CPA Prep.  This comprehensive resource skillfully condensed complex topics, enabling Jimmy to comprehend the  intricacies of tax regulations and business law. The study guide's well-organized structure and focused  approach significantly contributed to Jimmy's success in the REG section. With his characteristic determination, he swiftly absorbed the material and skillfully applied his understanding to tackle the  exam questions.
Attending Live Classes and Demonstrating Rapid Problem-Solving Skills  
In addition to utilizing study guides, Jimmy eagerly participated in Vishal CPA Prep's live classes. These  interactive sessions fostered a dynamic learning environment, allowing Jimmy to engage directly with  the instructor and his peers. Jimmy's remarkable ability to swiftly comprehend information and apply it  to solve complex problems became evident during these classes. He consistently impressed his  instructors and classmates with his quick responses to questions and his valuable insights. 
Pursuing a Future in Law School  
Jimmy's achievements as the youngest CPA in history mark just the beginning of his academic journey.  This fall, he will embark on his path to becoming a lawyer at Loyola University New Orleans. Motivated  by his passion for the law and an unwavering thirst for knowledge, Jimmy intends to specialize in tax  law, building upon his solid foundation in accounting. His aspiration is to utilize his talents and  knowledge to assist individuals facing financial challenges, alleviating their stress and making a positive  impact on their lives. Jimmy's determination and dedication, coupled with his exceptional qualifications  as a CPA and future law scholar, position him to create a profound influence in the legal and business  spheres. 
A Gifted Mind and the Love for Accounting  
Jimmy discovered his affinity for accounting at an early age when he considered the best path toward  law school. Fascinated by the subject's reputation for complexity and longevity of study, Jimmy chose  accounting to challenge himself intellectually. Over time, his fascination grew into a genuine love for the  field. He recognizes accounting as a means to provide crucial assistance to individuals, especially those  burdened by financial concerns. Inspired by his desire to make a difference, Jimmy volunteered his time  with the AARP to provide tax preparation services to elderly and disadvantaged individuals in his  community. This experience solidified his belief in the power of accounting to alleviate financial burdens  and motivated him to pursue a career focused on helping others. 
Life Lessons: Balancing Exams and Enjoying Life  
Despite his young age, Jimmy imparts valuable advice to others preparing for challenging exams.  Drawing a parallel to his love for fishing, he emphasizes the importance of maintaining a balanced  lifestyle during the exam preparation process. Jimmy advises against becoming consumed by the exam  and encourages individuals to continue engaging in activities they enjoy. By integrating study time into  his daily routines, such as bringing his books along while fishing or spending time with friends, Jimmy  successfully absorbed the exam material without feeling overwhelmed or fatigued. His ability to strike a  harmonious balance between focused study and an active life illustrates the key to maximizing  productivity and maintaining a healthy mindset during the exam preparation period.
A Remarkable Journey Continues  
Jimmy Chilimigras' extraordinary achievements at such a young age foreshadow a future characterized  by remarkable success and meaningful contributions to the legal and accounting professions. Driven by  his passion for helping others, coupled with his unparalleled dedication and exceptional academic  qualifications, Jimmy is poised to make a lasting impact in the field of tax law. As he embarks on his legal  studies, the world eagerly awaits the remarkable achievements that lie ahead for this exceptional young  man.